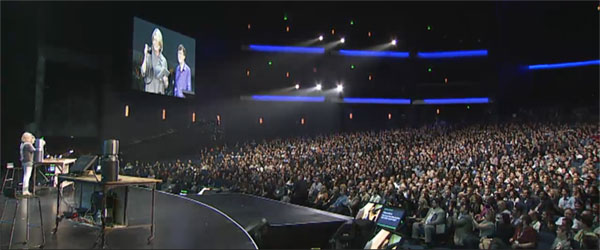 Adobe MAX 2011 was one of the most amazing events yet, certainly a personal favourite of mine and very well received by the over 5000 attendees.  This year we changed the event "pitch" considerably, from what was a standard product launch and partner expose, to a more focused and customer solution focused vision.
Nowhere was this more clear than in our keynote sessions across the first two days.  I noticed on Twitter that many of you were confused about the change from the norm, "Why is Flash not mentioned every 10 seconds" etc.  There are good reasons, let's distill the event a little.
Everyone at the event, and to some extent at home, saw one of the most incredible performances on stage on day one.  Arriving at the venue we were all presented with a concrete backdrop, no Adobe or MAX logos – nothing.  We began the show with a Violinist on stage, followed by two amazing dancers who evolved into the backdrop to become part of a stunning display of digital art, animation, lighting and music.  During their performance the stage deconstructed, much to the surprise of everyone, while the dancers appeared to reconnect with one another and ultimately the audience.
A couple of MAX attendees recorded this video of the keynote, "I knew that wall was fake!".  Of course the wall was a total of five 300 feet tall screens that wrapped around the entire theater, the projectors pushing 300 million pixels per second, that's why it looked so real. The eagle-eyed among you will note that the spotlights on the walls, and therefore the dancers shadows, were not real either.
The team at Elastic Creative produced the opener, so a huge congratulations to them. They've been kind enough to publish the opener video to Vimeo, minus some of the score and of course the live dancers.
The opener demonstrated a new vision for Adobe, one that's not just about our new product ideas, but an Adobe that's focused on providing solutions irrespective of the technology, during what is an amazing time of change across digital marketing and media.
So in short, if you feel that you were short-changed because we didn't talk about Flex or Flash enough, then it's quite likely that you didn't realize that Fonts, Digital Publishing, Analytics and Measurement and Web standards are also key to the success of our customers and therefore Adobe.
I hope that goes some way to explaining things.